Legend Micro Review
I figured I'd write a quick review of my experiences with Legend Micro. Here is my story:

I loved by buddyís Targus TSB215 and wanted a similar backpack for myself. I did some searching and found out that the TSB212 was almost the same pack, and I compared it on Targusí site
http://www.targus.com/us/product_details.asp?sku=TSB212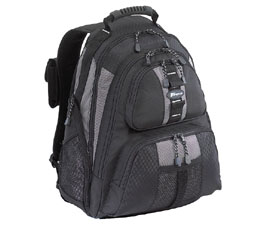 and Amazon:
http://www.amazon.com/exec/obidos/tg/detail/-/B00005T3H5/102-5486756-5720110?v=glance
When I did a Froogle search for the part number (TSB212) I found the cheapest price at Legend Micro:
http://www.legendmicro.com/store/more_info.asp?product_ID=3059
but there was only a thumbnail of the backpack there. I figured itís the same part number so I ordered it. Well, what I got is labeled on the inside tag as a TSB212, but itís not the same as whatís on Targusí site. Maybe they changed something about the model at some point and Legend Micro only has the old version. Next time I think Iíll spend the extra $10 and go to Amazon. I did not care much for the attitude I got while I was on the phone with them about it so I figured Iíd write this review. While I guess I technically got what I ordered, Iím not happy with it.

Looks like he sells on Ebay too:

http://cgi.ebay.com/ws/eBayISAPI.dll?ViewItem&category=11170&item=6763673880&rd=1&ssPageName=WDVW

but the TSB212 he pictures there IS NOT the same as the one I got. Since I did not by it off of Ebay the guy at Legend Micro did not care, but I'm guessing someone on Ebay who buys the bag will not get what he wants. The only way they would take it back from me is if I pay a restock fee and I believe shipping. I personally would recommend not buying from them, based solely on customer support. The only thing they care about is that it's the same part number, not the same backpack. The guy on the phone kept saying I was trying too black mail him when I said I would tell my friends not to buy from him for misleading advertising, guess he does not understand word of mouth.
Lesson learned: Don't always buy from the cheapest folks on Froogle, go with a more trusted vendor if it's only a few bucks.
Here are some links to other folks having problems with Legend Micro:
Jagger's bad experience with a motherboard ordered from Legend Micro (use your browsers search function):
http://www.eff.org/Censorship/Academic_edu/CAF/batch/?f=1995_12_24.txt
Temporal's hard drive issues with Legend Micro:
Someone else's problems with customer support at Legend Micro:
http://www.weslow.net/oldsite/bytethis/columns/mailorder.html
Google cache of page
Looks like this guy does not like Legend Micro's return policy much
http://keywords.oxus.net/archives/2004/06/page/2/
Brainstormcomp also seems to have problems with Legend Micro's customer service:
http://forums.slickdeals.net/archive/index.php/t-3497.html